Oaklodge Nursing Home first to pilot Covid-19 early warning software in staff
Oaklodge Nursing Home in Cloyne Co. Cork is the first nursing home in Ireland to pilot innovative remote temperature checking software that can detect early Covid-19 warning symptoms in staff.
The Covid-19 Remote Early Warning System (CREW), which was developed by software development company 8 West Consulting, with the College of Medicine and Health at University College Cork (UCC), The ASSERT centre and Tyndall Institute at UCC, was initially trialled at Cork University Hospital over the past two weeks.
#WATCH Cutting-edge #COVID19 technology being trialled at a nursing home in #Cork@PaulByrne_1 reports#VMNews | #COVID19ireland | #COVIDー19 pic.twitter.com/eTz33Zhvg7

— Virgin Media News (@VirginMediaNews) April 20, 2020
The most common symptom in cases of Covid-19 is a rise in body temperature. CREW remotely checks the temperature of staff with a digital thermometer sensor. An alarm is triggered if their temperature gets too high, which is a warning to stay at home and selfisolate, ultimately helping to contain the spread of the disease.
Commenting, Diamuid O Dalaigh, owner of Oaklodge Nursing Home, said:
"COVID-19 presents unparalleled challenges for nursing home staffing throughout the country, so technology like this that helps to protect our frontline workers is critical.

We are delighted to be the first nursing home in Ireland to trial the CREW software, which is currently in test phase before it can be rolled out nationally. Thankfully, we currently have no Coronavirus cases, and hope that this will help to continue to protect our staff and residents alike over the coming months."
Professor Barry O'Reilly, Director of the Assert Research Centre at UCC, said:
"A huge amount of diagnosed cases of COVID-19 are among the healthcare community working to halt the spread of the disease. The single common variable in the vast majority of cases is a rise in body temperature.

With this in mind, 8 West decided to repurpose some of its existing SafeTrx technology to build a Covid-19 Remote Early Warning System (CREW) for frontline workers, in partnership with a strong project team that includes Sony, emergency medicine clinicians, medical researchers from our own ASSERT Centre (College of Medicine and Health, University College Cork), the Head of the ICT for Health Programmes and Head of the Life Sciences in UCC and Cambridge Wireless.

The system, which monitors body temperature, consists of sensors, smart devices and a cloud based monitoring and alerting system"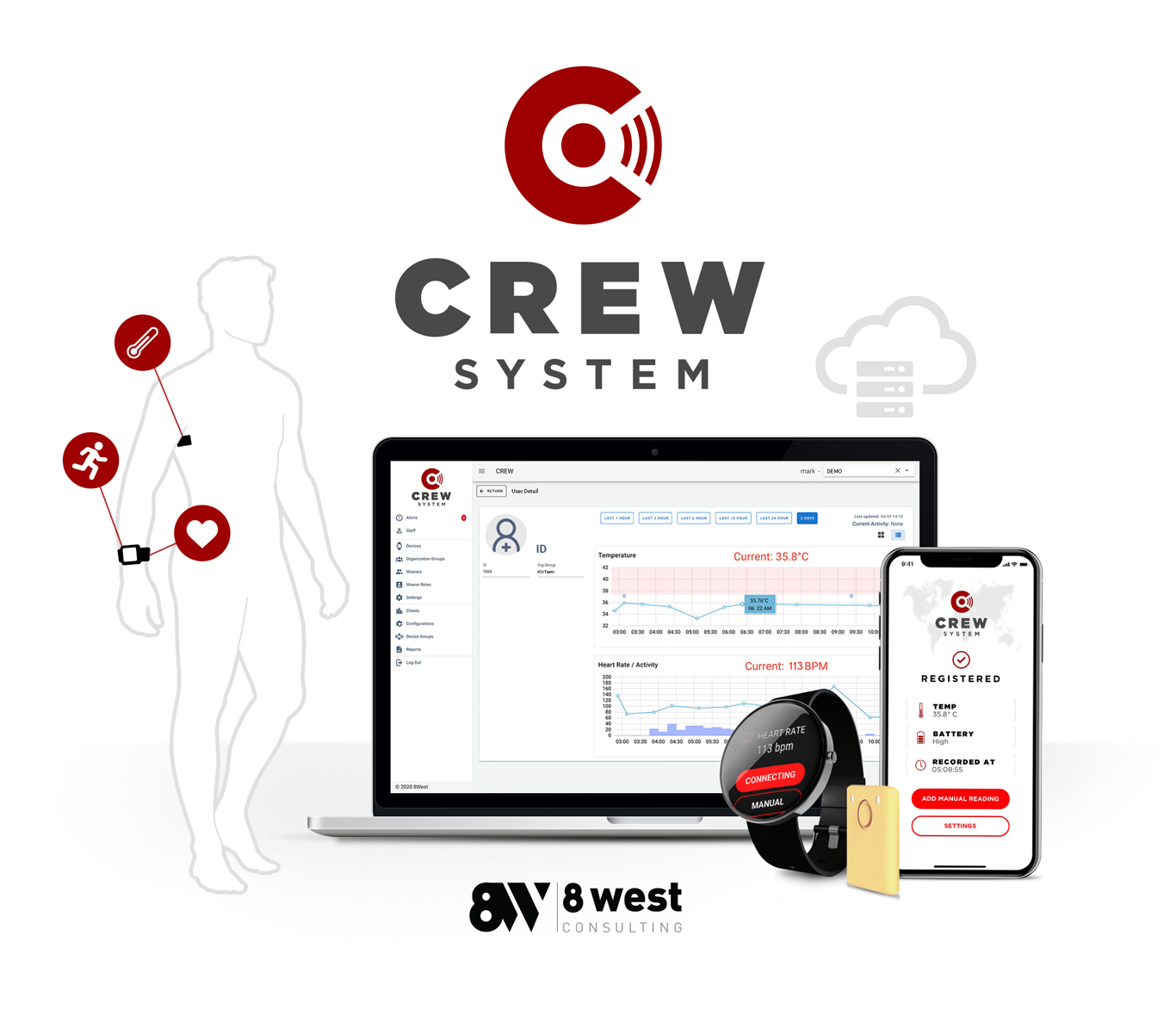 8 West's co-CEO John Murphy said:
"The CREW platform is exhibiting good functionality and connectivity between the wearable thermometer, wearable smart devices, cloud platform and dashboards. Preliminary data analysis is showing good usability, positive encouraging and consistent temperature recording results, with close alignment of the sensor data to that from tympanic membrane temperature data.

Including care homes has always being part of the vision and we are delighted to be working with Oaklodge as our first implementation in that sector. The team at 8 West and our partners in UCC have worked tirelessly to get this new technology into the front lines as fast as possible to support all healthcare and care home workers"
This initiative went into trial with selected CUH staff members on the 3rd of April and is now being rolled out to the first nursing home in Ireland, Oaklodge Nursing Home.
Last week, Oaklodge Nursing Home put a call out for caring and passionate people who may have lost their jobs or been put on reduced contracts to consider stepping up to help care for the elderly over the coming months.
While they currently have a full complement of staff, they are looking to create a panel for future positions that may be required over the coming months, including health care assistants, registered nurses, housekeepers, food service assistants, and activity providers. Construction is also expected to start on Oaklodge's new multi-million-euro Memory Care Village later this year, which will create an additional 55 jobs.
During the Coronavirus pandemic, Oaklodge is offering staff numerous additional benefits, including free dinners, thermometers, and training, such as competent use of PPE. In addition, transport and accommodation is being subsidised, and fully compliant staff who are also voluntarily cocooning will get a bonus payment. The nursing home has also staggered rosters and all breaks are in isolation to ensure the safety of staff.
For more see ASSERT, Oak Lodge Nursing Home, 8 West Consulting or contact info@oaklodgenursinghome.ie.
Contact Us
Back to news